Current Litter - Luna (Applecross Moon River) x Odinn (Maine's American Gunsmoke)
Bred - Sept 15-17, 2017
Whelped - November 16, 2017
8 Puppies - 4 male, 4 female - blue merles - black tris, black bis
Check out our Current Litter Blog and our Instragram <LINK page for more details for updates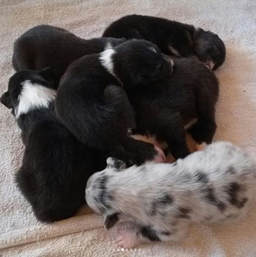 T
he grade of a companion is the dog's temperament, even though we may initially be attracted to the dogs coat coloring, sex or a short term impression.
All puppies from Maine Aussies come with lifetime health assurances, an annual boarding allowance with the breeder and guidance on responsible ownership.
Puppies are typically available at 8-12 weeks of age with 1st vaccinations, ID chip, cleared eyes and all appropriate paperwork. All of our puppies are able to be dual registered with the AKC (American Kennel Club) and ASCA (Australian Shepherd Club of America). The parents have been genetically tested for confirmed lineage and some hereditary diseases. Both parents will have acceptable OFA rated hips and have recent CERF or OFA eye clearances.
We also can provide partially trained and socialized puppies with prior commitment at 12+ weeks. These puppies continue to get our attention every day through this first stages of rapid learning and socialization and come to you with a higher level of obedience. In order to achieve a good loving bond with your dog, it must learn what you expect from it and we can give that process a jump start. Proper breeding, nurturing and training are all critical elements
in raising a great dog and companion.
Your puppy will be Temperament Tested for proper owner/environment matching. In our conversations we will ask you a number of questions about your lifestyle and living environment in order to make this match.
Your puppy will also be physically and emotionally Imprinted after birth to humans in order assure adaptability. This process will increase the confidence and ease of handling of the dogs throughout their lives. This process, which starts at day three cannot be stressed enough.
Both of these elements have proven effective for puppy placement time and again and have been passed onto us by foundation Australian Shepherd breeders. This breeding and the raising of these puppies will carry on the Colorado Tradition of creating Superdogs.
Though we all have visions of the sex and color pattern of the dog we want...it is your dog's temperament that will stand the test of time, it is your dog's temperament that you will remember for a lifetime. Your commitment to your new dog and to training is paramount.
Puppies can be carefully shipped, but only if the season and conditions are right. We sometimes deliver puppies, depending on location and timing. If you are interested in a puppy from this or future litters, please call Michael at (970) 901-5105 or email us. If you email please include your location and phone number and send to michael@maineaussies.com. Most of our clients are in Maine, Massachusetts, Colorado and California.... but most importantly, they are families that are matched to a specific dog for life. During this initial discussion, we can discuss our mutual expectations and puppy pricing. We will request a one page write up describing your family, home, puppy trait desires, references, veterinarian and dog experience. You could also show us a video of what it would be like to be a dog in your home, if you have the technology. Puppies are not simply for sale, we are finding matching homes for our puppies. As stated above, it is best to consider reserving a puppy from this litter prior to 8 weeks of age by having a conversation with us and placing a deposit. With such an arrangement you will get specific updates relating to the litter and we can work closely with you as the puppies develop to make that perfect match to you and your home.
Summary - What is behind a Maine Aussie?
Classic Colorado Mountain Herding Bloodlines with extensive health records
DNA and Physical testing where appropriate (hips, eyes, lineage, etc)

Dogs are Bred with a focus on heath for long life, body geometry for ease of motion, dedicated temperament to make a great companion and tradition to allow the Mountain Aussie of the West to live on

Our Dogs are not shown in the ring, our program is driven by the other factors noted here, we are driven by bringing you the best Aussie possible
No expense or time is spared when it comes to pre- and post-natal care for our pups - all proceeds from the placement of a puppy go towards dogs and litter care
Puppies are imprinted at an early age - we then increase stimulation and socialization as the weeks go on
Our dogs live with us in our home, under foot - puppies are whelped in our bedroom
We provide extensive updates and information on the process of puppy development
We will stand as a home of last resort to any dog we have bred - they will never end up in a shelter or abandoned
All puppies are professionally evaluated for their temperament at 7 weeks so that we can work with you to find the best match for your lifestyle and needs, which in the end is the ultimate reward for all of us

We care about every aspect of the puppy rearing process and will empower you to succeed with both information and a SUPER DOG - ready for the challenges of being your companion
Summary - The Process of bringing a Maine Aussie into your Home.
Review our Website
Contact us - preferably by phone - ask questions, allow us to do the same
Send us a written summary of the kind of life your dog would lead, how it will be protected - we love videos too, that is why we post so many
We continue to communicate until we both feel that we have a match between Breeder and Family
We sign a Dog Transfer Agreement and you place a Deposit for a spot in our current or next litter
You keep an eye on our blogs and postings, calling us anytime you would like an update
We breed, whelp, raise and begin socialization of the pups
At 7 weeks the puppies go through an Official Temperament Test
We both review the results of this test along with our experiences with the different puppies, your desires and our understanding of the environment you will provide
We pick a puppy together, balancing all of the above
Typically at around 9 weeks, you pick up your puppy, we bring your puppy to you or the puppy is safely transported to you
Summary - What are the Costs of bringing a Maine Aussie into my home?
Please call us to discuss the cost of transferring a puppy into your care. The price of each litter is based on the costs associated with the breeding and care required. Older dogs, breeding dogs and specific requests may require alternative efforts and shall be priced accordingly on a case by case basis.
The cost of air transporting the puppy on its own, if needed, is typically an additional $300-500, including an appropriate dog carrier, vet certification and transport expenses to the airport. Dogs cannot be transported at all times of the year.
The expense for us to bring a puppy to you personally, accompanying the pup, via air or car varies depending on location. If via air, we will carry the puppy with us as a carry on. You can consider doing the same in reverse.
---
Next year, 2018, we plan on breeding both Maine's Sally (Shadow x Gibson) and Maine's Daphne (Luna x Gibson). Timing depends on when they go into heat. Feel free to call us to discuss reserving a spot in either of these litters. In general - Sally is a little more old soul, longer body and even tempered - Daphne is a little more excitable, smaller, a young soul and happy go lucky. I feel they are both destined to be great dams (mothers). I will post pictures of these guys on here soon, though you can see both of them on our Instagram feed.
Merimark's Imprint Siouxsanna HIC - Female from one of Gibson's previous litters.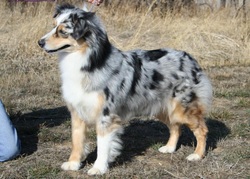 This is Merimark's Imprint Siouxsanna HIC also known as "Anna". Her Sire Colorado's American Icon "Gibson" (see picture above) which is the sire for our Shadow's current litter, thus this is our current litter's half sister.

Her Dam ASCA Ch. Colorado's Runaround Sioux. Anna lives the good life in Colorado.

---