"Shadow" - Female - Wyoming's Going to Maine DNA-VP - born August 8, 2008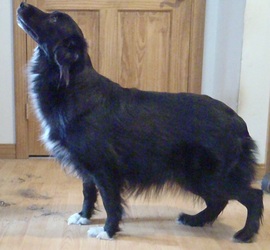 Shadow came to us from Wyoming Kennels, Anita Simon-Laycock, of Cheyenne, Wyoming. She is Rorrie's half sister with the same mother (Slate), previous litter. Also of the old Fletcher Woods line, but Shadow is more mellow. She has the Aussie energy, but she saves it for out in the open. She is a Black Bicolor with white front socks and a white chest. She is about 49 lbs. but her build is slightly taller, longer and leaner than Rorrie. She is a sleek beauty and is truly Michael's shadow. Shadow's elbows are OFA Normal and hips are OFA Excellent.
Shadow just had a litter on February 14th, 2013 . She was bred to Colorado's American Icon, aka "Gibson" in mid December. If you are interested in a puppy from this litter, please contact us at (207) 769-2326 to make a reservation.
---
"Rorrie" - Female - Wyoming's Colorado Blue Jay - born November 3, 2009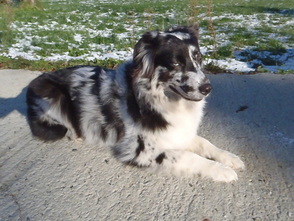 Rorrie came to us from
Colorado Australian Shepherds
, Leslie and Dick Sorensen of Wellington, Colorado. She was a 10 month old. Rorrie is the from the old Fletcher Woods line and is full of energy and loves to play. She has a strong personality and has classic Aussie instincts. She is about 53 lbs. now at 3 years. Rorrie loves people and other dogs, though she is pretty dominant. She is a Blue Merle with black and white, quite unique. Her whites are soft too.
Rorrie is our loving and local companion and does not breed.
---
"Luna" - Female - Applecross's Moon River DNA-VP - born December 24, 2010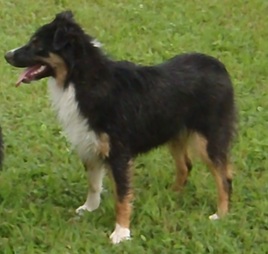 Luna came to us from
Applecross Australian Shepherds
, Vicki and Chris Lembcke of Fort Collins, Colorado. She was an 8 week old puppy. She is confident and independent at one year, she can hold her own and is well adjusted and socialized. She was house trained almost instantly. We look forward to each new day with her as she grows up. It is fun to watch her go through all her awkward puppy phases. She is a Black Tricolor with a strong amount of black and just about full grown, though she is a petite girl. She is quite the explorer, always curious and sniffing through everything.
Luna's elbows are OFA Normal and hips are OFA Good.
---
Pics coming soon of Sally and Odinn (out of Shadow) and Daphne (out of Luna).

Our Aussie History

We got our first Aussies while living out on the North side of Mary's Peak in Oregon in the 1990's. Gram and Bear came to us from our landlord Bob. We had been living on Bob's land for some time in a Tipi and a Cabin. We cut firewood for him and he pretty much let us have the run of the back forty in exchange. The Bob stories could fill the Grand Canyon, oh what a trip it was to experience him.

One day Bob borrowed $85 and he just never seemed to be paying it back. In years of living on his land, this was the only money we ever discussed. When his girl Pearl, an Aussie blue merle, and Jim, an Aussie red tri, mated; we decided to get one of the pups. We picked Gram, a red merle male, at day one and told Bob not to dock his tail. Gram passed away just over two years ago after spending a couple months with our current crew. They all respected him in his old age.

We traded Gram for $50 out of the $85 Bob owed us. The other $35 was for Bear, a red merle female. A couple of years later we got Jeb, a sleek black tri, from Leslie Frank at Propwash Farms in New Hampshire. Despite getting diabetes and cataracts at seven years old, the almost 14 year old Gram outlived both his sister and Jeb. As a result of the effort and expense involved in Gram's care, we are inspired to breed for health and longevity. Gram's monthly insulin cost exceeded his purchase price for seven years. A well bred and healthy dog is the least expensive dog you can own in the long run.

We have been privileged to have experienced both the breed and the dedicated breeders mentioned herein. They have guided us to where we are. We just love cute, healthy, smart dogs. Allow us to be part of your Australian Shepherd Story.